Observatory of Regional Cooperation
Supported by: Ministry of Foreign and European Affairs of Luxembourg
Project duration: 2020 – ongoing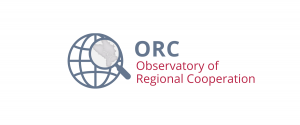 Observatory of Regional Cooperation (ORC) is a Flagship Initiative of Cooperation and Development institute within the program area of "EU and Connectivity", supported by the Ministry of Foreign and European Affairs of Luxembourg.
ORC is a web-based platform dedicated to the observation, collection of empirical data, analysis and promotion of regional cooperation in the South East Europe, with the goal to contribute to the resilience and sustainability of an all-inclusive regional cooperation.
By increasing the visibility, the transparency, providing appropriate information, by disseminating it, and by producing factual analysis, ORC provides very useful information to organizations seeking to enter or which are already engaged in regional activities. It will also contribute to the policy making process by making available empirical information on the state of affairs regarding the existing cooperation initiatives.
ORI comprises the following sections:
Regional Cooperation Initiatives database containing more than 55 active initiatives within the SEE at the moment of initiation. The content of the database will be updated as to reflect the latest developments in the SEE6 regional cooperation scene.
A Library containing official documents and research analysis relevant to the regional cooperation in SEE. The list of publications will be subject to further enrichment and updates in time.
The updated information, functionality and visual features within the database in the platform make it friendly for different types of users, increasing as such its visibility and outreach towards institutional stakeholders engaged in SEE6 regional integration.
More information about ORC can be found here.