Observatory of Regional Integration (ORI)
Partner: Friedrich Ebert Foundation; Agency for the Support of Civil Society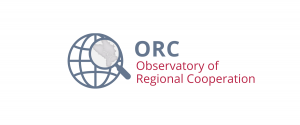 Observatory of Regional Integration (ORI) is a platform dedicated to the observation, collection of empirical data, analysis and promotion of regional cooperation in the Western Balkans.
ORI contributes to the promotion, strengthening and sustainability of the initiatives of regional cooperation carried on, not only by the civil society organizations, but also by other societal actors as well as state-related structures and institutions.
By increasing the visibility, the transparency, providing appropriate information, by disseminating it, and by producing factual analysis, ORI provides very useful information to organizations seeking to enter or which are already engaged in regional activities. It will also contribute to the policy making process by making available empirical information organised by country, sector, cost, form of legal entity, etc. on the state of affairs of the existing cooperation initiatives.
ORI comprises the following sections:
Regional Cooperation Projects (RCP) Database: a database of circa 550 projects involving at least one Albanian partner;
Regional Cooperation Initiatives (RCI) Database: a database of 71 regional cooperation initiatives involving Albania;
ORI Library: a library of studies and publications on EU enlargement and regional cooperation in the Western Balkans.
Within the aim of the project, the typology of engaged institutions in regional integration are identified and the contacts and networks with the supporting sources of information on regional integration have been structured.
More information can be accessed here.