Supporting Transparency of Public Action in Albania
Duration of the project: January – July 2014
Donor: Swiss Agency for Development and Cooperation
The overall goal of this project is to create, maintain, enrich and promote the Repository of Albanian Public Action (RAPA) with the aim of building a publicly accessible memory of Public Acton in Albania.
The frequent changes in government have brought along changes of the government institutions' archives, databases and websites where relevant information and documentation was stored. This situations makes it very difficult for citizens, researchers, civil society, private business, donors, and event for civil servants and politicians themselves to consult, compare, learn from past miskates, or simply document and archive the chronology of public action.
This project will aim to act upon the situation by creating a perennial and sustainable Digital Library, where the public policies of the country can be stored, classified and accessed by the citizens, researchers, business sector, civil society, civil servants and politicians. This will be completed by a practical exercise of lessons learned from past public action, in the sectors of the National Strategy of Development and Integration and of Territorial Reform.
The project will collect and stored in one place the (a) National Strategies or similar and related documents produced after 1991, and (b) all legislation, strategies, studies, assessments, etc. on the Territorial and Administrative Reform in Albania, since 1912. Finding, digitalizing, classifying, cross-linking, and making them available will contribute to the institutional memory of the Albanian state by creating a very important strategic group of documents. The repository can be found in ShtetiWeb.
The project will construct and propose an alternative bottom-up scenario for the upcoming territorial reform, through the identification and valorization of the "territorial memory".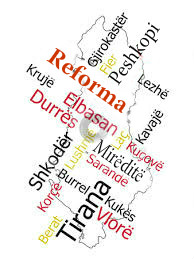 Please follow this project and its activities here in Albanian Language.